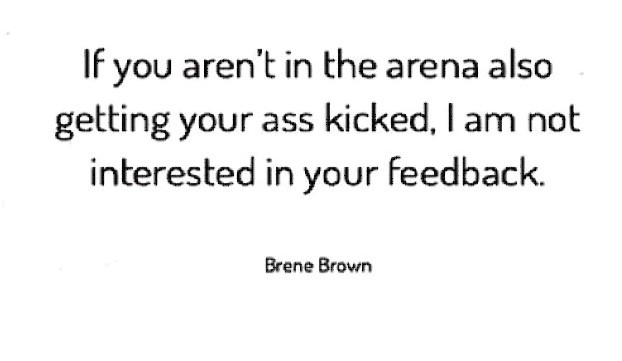 This quote was posted recently on LinkedIn by a podcast host with whom I was a guest earlier this year. Her accompanying comment was "I love this quote from Brene' Brown". I have a great deal of respect for this host and the work that she does, so my initial reaction was "yeah, that's bold and to the point". However, my analytical mind naturally dug deeper and I started to wonder what context the author meant this to be taken in. Did she actually mean that anyone who is no longer participating as a cog in the wheel (or laying their body on the anvil of commerce) has nothing valuable to say? Am I to assume that she believes that Jack Welch had no valuable guidance to offer once he retired from General Electric? Or that Lee Iocacca was tapped out when he stepped down after turning Chrysler Corporation around in the 1980's? Should we ignore advice from Ken Blanchard, author of the One Minute Manager, who has built a significant following for his "servant leadership" philosophy just because he is not getting his ass kicked by being directly engaged in daily corporate activities?
You can see the dilemma. Every time I re-read the above quote I have less appreciation for it, perhaps just because (I believe) it lacks the necessary context. Brene' Brown is an American author, professor and podcast host. She has written six New York Times bestselling books. She knows what she is talking about. So, I would like to think that she was making an observation about today's post-pandemic work environment. Many people who have their fingers on the pulse of today's workforce have realized that the rise of remote work has made it increasingly difficult to find workplace coaches or mentors. To paraphrase Cloe Berger1:
1. "In spite of the perception that the younger workers of today routinely challenge leadership, demand better pay and conditions, and are willing to leave at the drop of a hat, they largely want what employees of other generations have …….."
2. and, "a whopping 83% … reported that…. they think a workplace mentor is crucial for their career"
3. finally, "being able to connect with the manager or director on a more personal level—is extremely important"
Brene' Brown's quote is based on her wealth of knowledge and experience. The value of its content will be a result of individual interpretation and reaction.
But, just maybe, a more positive statement would be: "if you are at an experience level where you can legitimately give advice, and you are available for me to seek that advice, I am willing to listen".
Stay Courageous,
Gordon
1Mourning The Mentor: GenZ longs for a coach at work, but many can't find one, Chloe Berger, Fortune Magazine, October 5, 2023